Summer Pop-Up Events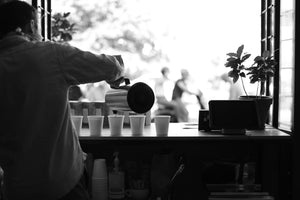 Our team is venturing out from the roastery for some very exciting events this summer. We can't wait to see you!
FRIDAY, JULY 29
12 - 2pm
R&D Foods
602 Vanderbilt Ave, Brooklyn
We're popping up in our own backyard this week! Stop by R&D Foods for a free tasting of our entire cold brew lineup. We'll have Parlor Cold Brew on Tap ready to sample out and free Parlor Cold Brew cans for the road. Both products will be available to purchase at R&D Foods beginning this Friday. What a treat!
THURSDAY, JULY 21
12 - 2pm
Olive's SoHo
191 Prince St, NYC 
Heads up, SoHo! Another wonderful opportunity to get hooked on our cold brew, this Thursday, July 21. Join us at Olive's on Prince Street from 12-2pm or until we get rained out. We'll be giving out samples of Parlor Cold Brew on Tap and have a fridge full of cold brew cans for the taking. Cheers!

WEDNESDAY, JULY 20
9 - 11am
Maman Meatpacking
800 Washinton St, NYC
We're thrilled to be heading to the Meatpacking district on Wednesday, July 20 to help celebrate the opening of Maman's beautiful new shop. We're even more thrilled that you can now purchase Parlor Cold Brew cans at this location from their grab-and-go fridge in addition to hot and cold Parlor Coffee behind the counter. Come get a can on us and check out our portable tap boxes from 9-11.
WEDNESDAY, JUNE 29
9 - 11am
The Elk
128 Charles Street, NY
Stop by The Elk's West Village location Wednesday, June 29th from 9-11am for a free tasting of our entire cold brew lineup. We'll have Parlor Cold Brew on Tap ready to sample out, Parlor Cold Brew cans, and of course, hot and cold-brewed Parlor Coffee flowing behind the counter. Looking forward to seeing you!

SATURDAY & SUNDAY
JUNE 11 - 12
11am - 5pm
Pilgrim Surf + Supply
33 Grand Street, BK
We're throwing a pop-up event at Pilgrim Surf + Supply to celebrate all things summer. Stop by Pilgrim's beautiful new shop on Grand Street between 11am and 5pm for complimentary pour-overs and cold brew served by Dillon Edwards himself!
We'll have a limited selection of some of our favorite whole bean offerings as well as our BRAND NEW cold brew cans for sale, don't miss out on the opportunity to snag some for the beach!
SATURDAY, JUNE 4
4:30 - 6:30pm
Cherry Lane Theatre, 38 Commerce Street, NYC
Join us this Saturday, June 4th to support abortion rights at the Cherry Lane Theater. The sensational Alison Leiby and bake-sale-extraordinaire Natasha Pickowicz have assembled a lineup of chefs that you're not going to want to miss. All proceeds to support The Brigid Alliance.
Come stuff your faces and pick up some Parlor Cold Brew for a good cause! AJ and Stephanie will be so happy to see you.