An Interview with Maria Bercelia Martínez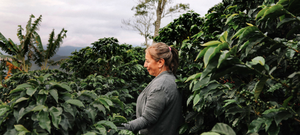 Questions written by AJ Walzer
Conducted by Marcos Iglesias
Translated from Spanish by Enrique Caicedo
Edited for length and clarity by AJ Walzer, Marcos Iglesias, Dillon Edwards, and Elisa Maezono
Marcos:
Hello Maria. Thank you for taking the time to tell your story. To begin, could you please share a bit about your childhood?
Maria Bercelia:
I was born to a very poor family in the Nariño department. My parents were two humble peasants, and I was born in a small village. We lacked access to a paved road and had to walk a full day to get to the place where we used to buy groceries. My parents managed a very small farm. I lived there with my three brothers. I was the second-born child and only daughter of the family.
Marcos:
And your brothers?
Maria Bercelia:
I shared very little with my brothers because we had to leave from where we were born. Our parents separated, so I shared very little with them. I was only in touch with the younger two, and they grew up alongside me. After they separated, I went with my mother and my two younger brothers to the Putumayo department. My older brother took his own path. 
Marcos:
How old were you when you left that farm with your mother?
Maria Bercelia:
When I was six years old, I left my parents's farm and moved in with my aunt. She provided me with an education and cared for me in my youth. At eighteen years old, I left Putumayo and returned to live with my mother and two youngest brothers. Soon thereafter, I met my husband, Jose. After dating for two years, we married and started our own family.
Marcos:
Do you remember how the two of you met?
Maria Bercelia:
We met in a small village of the Putumayo Department on December 24th, 1982. It was a huge Christmas party. I went out, and I saw Jose there. My mom was fairly strict. She normally wouldn't have let us talk, but at the part I saw an opportunity, and I didn't think I'd get another chance.
After that night, we became a couple, "boyfriend and girlfriend" in the most classic sense of the phrase. We would hang out together as much as possible, go out for walks and all that. Soon after we met, we decided to get married, to have our own family. And since that year we have been living together, fighting together, growing together.
Marcos:
Can you talk about life after your wedding? What was it like starting a family? What led you to the life you have now as a coffee producer?
Maria Bercelia:
We were living in Putumayo, in a red zone, a conflict zone, a zone filled with coca production. Jose and I started with a small farm, but we didn't do so well. We decided to raise cattle, but soon we realized that wasn't a good idea. Our farm was very far away from the closest town. We had to take our kids to school, but the only way to get to town was by river boat. The river flooded quite frequently, so we were afraid to take our kids to school and faced a tough decision. Eventually, we moved back to town to start a new business.
Marcos:
And what kind of business was that?
Maria Bercelia:
We opened a small hardware store. It was a major lifestyle change for us. We didn't know anything about business or accounting, and we also did not have very much capital. The store was so small. When I think back on those days, I can't help but laugh. We didn't know where to begin! But we quickly realized there was high demand for construction materials and that we could make money. We couldn't keep supplies on the shelves! We had to open lines of credit with the country's biggest suppliers, and we built trust with them. They helped us stock our shelves. We worked very hard, and we did well. We worked for about seven years in that town.
We spend a lot of time in that little village. We bought a house near where we had the store, and we bought a truck to deliver merchandise. Yet even in those days, our neighborhood was already filled with guerrilla and paramilitary activity. We were surrounded by conflict.
One night, the paramilitary set out to burn the town and murder its inhabitants. They were hard times. We had to leave immediately. We gathered everything we could fit in our truck and left everything behind. We had open lines of credit with customers which we could never collect on. We lost all of that money. Basically, we lost everything.
We fled and stayed with one of my brothers in La Hormiga, Putumayo. Soon thereafter, we moved on to Nariño. Two of my children were studying there at the local church. So, we decided to go follow them there, to Pasto, a town in Nariño. From Pasto, we went to Neiva, and then we moved to Pitalito. We were there for some time.
The kids started to study in middle and high school. We made ends ends meet, yet it was quite a difficult life. As a result, we had no choice but to return to Nariño again to find a way to restart our hardware business from nothing. The only thing we had was a good line of credit with our old suppliers. Each of them agreed to continue to work with us and support us as we reopened our shop.
We continued working hard and going forward. And yet, we were still faced with living in a "red zone," the same situation we had escaped before. We were making a living, but we were forced to face the same dangers. We began to consider leaving Nariño once again because we were living a locked life: we felt trapped in our own home. We couldn't go outside. We would open the store from 6 a.m. to 6 p.m., and we couldn't go anywhere after dusk because they were killing people everywhere.
Therefore, we decided to try to sell the business and leave again, once and for all. At the same time, our kids were growing up alone, studying in Pitalito, completing their high school education. Thank God they graduated from high school. They were dedicated, hard workers. And yet, we couldn't sell the business–it's impossible to sell anything in a red zone. We left some employees to keep the shop open, but we lost everything yet again.
Marcos:
Everything? Was there nothing left?
Maria Bercelia:
We secured some savings. Although we lost a lot, we managed to bring the kids through school. Andrea graduated from college. Diego didn't go to college, though he completed studies at vocational school (SENA). And Daniel, the last one to be in college, couldn't finish his dentistry studies.
Once we started producing coffee, it was very difficult: we didn't know a thing about it. The price of coffee was very low as well. We bought the farm with the cash and credit we had, but we couldn't provide enough money for Daniel's tuition. He required ten semesters to graduate, but we only managed to pay for seven.
Marcos:
How did you start growing coffee? You'd never farmed coffee before, right?
Maria Bercelia:
No, we knew nothing about it. We didn't even drink coffee. We didn't produce any coffee at all.
Marcos:
So how did you come to that decision to start growing coffee?
Maria Bercelia:
Well, shortly after we moved to Pitalito, we decided to buy a farm with the money we had and a promise to pay for the remainder owed in installments over time. When we acquired the farm, only a portion of it was planted with coffee, maybe half of it.
Our initial goal was simple: cultivate all of the land and sow seeds throughout. We built and cared for the seedbeds. We worked hard to begin paying our debts. We had to borrow some money from the bank in order to keep the farm running. The money we had saved was not enough for us to get by. And that's how we began. It has been difficult. But, thank God, with the effort of my family and everyone, we managed to get ahead. It was very difficult. Without money, without anything. Sometimes I had to work a second job on top of farming. What hurts the most is knowing that my son was never able to finish his studies. He gave up his dream, but we still have the farm.
We decided to grow quality coffee–specialty coffee–to improve our earnings because the price paid for coffee at the time was very low. Thank God for that decision, and I'm grateful to our friends for encouraging us. They gave us the motivation: many times I thought of abandoning the farm because the money we made from selling coffee wasn't enough to cover our monthly supplies. I couldn't escape the thought of leaving it all behind, never coming back to the farm, abandoning everything, and starting all over. We didn't know what to do. We had no options.
But when Alejandro [Renjifo, founder, Fairfield Trading] arrived and coffered us 200,000 to 300,000 pesos above and beyond the price set by the Federación Nacional de Cafeteros, for us, that was a lot.
He inspired us to stick with it. We have been progressing, little by little. We've managed to pay off a lot of our debts.
And now, with our partnership with Parlor, which has helped us tremendously, we've got a truck, and we've made great improvements to the farm.
Marcos:
Can you tell me a little bit more about how you met Alejandro?
Maria Bercelia:
Of course, well my story is very long and is hard to tell. Every time that I remember it, I start to cry, so it's difficult.
Marcos:
Of course, I can imagine.
Maria Bercelia:
Let's continue!
Marcos:
Are you sure?
Maria Bercelia:
No, no, everything is okay. Remembering is living!

Marcos:
So, tell me a little bit about how you met Alejandro.
Maria Bercelia:
Okay. Usually, Jose was the one who went into town to sell our coffee, and I would stay home. Sometimes, we would go together, and one day he suggested I go on my own. I remember selling my coffee at the market price of around 760,000 pesos per carga.
Soon after that, I was walking through Acevedo when I saw the office of Fairfield Trading, and the price listed there was roughly 200,000 pesos more than the market price, much more than the price that I had recently received. So, I went to talk to the sales manager who was working there, and I asked him if that was the price that they were paying, He said yes, but the advertised price was reserved for specialty coffee.
So, I asked, "What makes coffee special?" I didn't know anything about specialty coffee. He told me that specialty coffee is cleaned in a particular way, that is was dried on a parabolic bed and several other things. 
As soon as I returned to the farm, I told Jose that there is a place in Acevedo where they pay more for high-quality coffee. We always produced quality coffee, but one paid us well. So, I told him we should take a good sample down to be evaluated. The first sample we took didn't qualify as specialty coffee, though. It failed to meet Fairfield's criteria. We had left the coffee in the fermentation tank for too many hours, and the coffee was over-fermented. I told Jose that we needed to focus our energy on producing excellent coffee, specialty coffee. So, we did just that: we agreed to stick to it and began to produce coffee with care.
That's how I started selling coffee to Alejandro before we even met. A few days after my first sale to Alejandro's company, he came to see my farm. Alejandro said that he had tasted the coffee, that he liked my coffee very much, and that he wanted to get to know me, my family, and my farm.
Marcos:
How was that first conversation with Alejandro?
Maria Bercelia:
He came to my farm and said that the coffee was very good, and he wanted to continue working with us. I remember blushing due to all of the compliments. At the time, you'll remember, we were struggling. We were considering giving up and leaving everything but Alejandro arrived and changed my perspective. He said, "I know that you guys can do it. The coffee is good. You are not going to make it right away, but you will make it. Just keep on working." He motivated me a lot. And yes, thank God, that was the kind of support I needed to move on. He taught me how to start loving the coffee, and he inspired me to continue working. 
Marcos:
How beautiful! So, what happened after that? How did you implement changes in order to continue improving the quality of your coffee?
Maria Bercelia:
With an extra 200,000 pesos per cargo, we were able to improve the farm. We built a new drying facility with better ventilation and bought a new machine for flotation sorting.
We became deeply interested in the process and invested in our work. The next time we saw Alejandro, he said he was working with Robert of Collaborative Coffee Source to start a quality competition called the Acevedo Cup. I decided to submit my coffee as it is, and it did well. I didn't do anything unusual, yet my coffee placed ninth overall in the first year. In the second year, my coffee placed seventh. And in this third year, thank God, I came in first.
Marcos:
Every year you've placed in the top ten of the competition? You're getting better every year. Could you tell us about your production process on the farm?
Maria Bercelia:
It all begins with fertilization. And to yield a good quality product, you have to have excellent cherry selection.
Marcos:
Okay. And how do you ensure that? Do you do it yourselves, or do you hire pickers to select the coffee?
Maria Bercelia:
We have pickers, but we make sure they are selecting only ripe cherry. At the collection point, we have a sieve where we conduct manual sorting ourselves to ensure quality. That process is done here by the family, and we do the selection by hand.
Marcos:
But that depends on what pickers bring you, right?
Maria Bercelia:
Yes. Exactly.
Marcos:
Who are the pickers, how do you make sure that they are only collecting perfectly ripe cherry?
Maria Bercelia:
We always look for responsible people who display a strong work ethic. Most of the time, when coffee arrives at the collection point, I review the selection of each collector personally. We pay attention to detail and educate the pickers when sorting through their selection. We visually show them unripe cherry and floaters. I tell them what color cherry makes for a good selection. If they don't bring cherry that's up to our standard, we'll thank them for the day's work but make sure that is their last day at the farm. When we handle it like this, the pickers generally get better at their work.
Marcos:
Do you work with the same pickers year after year, or do you employ new ones every year?
Maria Bercelia:
For four years, we worked with the same pickers, though this year we replaced some of them. During the peak harvest, there are approximately twenty pickers.
Marcos:
Could you tell me some of their names?
Maria Bercelia:
Let's start with Wilmar. We have him "The Shovel" because he is the one who collects the most. He is a good coffee picker. He didn't have a place to live when he first came to us, and he didn't come alone: he came to our farm with his wife, his six children, and his niece. He is taking care of all of them. We gave him a small piece of land to build a house here at the farm, and you pass it at the beginning of the final drive leading up to our farm.
At Finca Los Angeles we pay each of the pickers equally. Everyone earns the same price per kilo delivered, but Wilmar works and stays with us all year round. At the end of the year. in December, we recognize his work and give him a bonus for his collaboration and effort. Wilmar is always with us on the farm.
Then we also have Diego, Gerardo, Saul, and many other pickers who work here. As farmers, when we bring on a worker, we ask for a commitment, and we say that we are looking for quality. We have to collect the best coffee. The people who help us here are very responsible workers. Some of them own their own farms as well.
Marcos:
Some of the pickers have farms of their own?
Maria Bercelia:
Yes, of course. They have smaller farms in other states in Colombia or other zones, places where the harvest happens during other months, on another cycle.
Marcos:
What is the next step in the process after cherry selection?
Maria Bercelia:
We collect the coffee, and each picker's collection is weighed. We analyze the quality of the collected coffee. We float all the collected cherry in water and separate out the under-ripe cherry as well as overripe and defective cherry. The remaining ripe cherry is pulped immediately, and then it is dry fermented. When our readings have shown that the coffee is properly fermented–after a minimum of 36 hours–we proceed to wash it. And then we move it over on the drying tables where we continue to select and sort. We pick out anything resembling defective coffee, especially quakers. Our goal it quality, and if we can achieve quantity as well, all the better. That's our gaol. Hopefully, one day we can present a coffee that is not lacking anything, a coffee that is perfect, that's the idea.
Marcos:
This is a daily process, right?
Maria Bercelia:
Yes, between October and December, this process is done every day. From Monday to Sunday without stopping. On Saturdays we receive coffee until 4 p.m., and it's pulped that same day.
On Sunday, yesterday's coffee delivery is washed and hand-sorted all day long, but on Sundays, we don't pick coffee. And yet, there is work in the drying tables, where we continually select and sort the coffee. On Monday, it's back to work, and for three months it's the same thing every single day, every day from 5 a.m. until 7, 8, or 9 p.m.
Once the coffee is dried perfectly (for about thirty days), we collect it again and put it through a final sifter to make sure that we didn't miss anything. We want to send the best product. This coffee is packed in bulk bags, jute sacks. When possible, we take the coffee down to the market right away.
Marcos:
Maria, you only submitted one coffee for your Acevedo Cup this year. How did you know that one was the one that you wanted to present?
Maria Bercelia:
Well, I used a different fermentation process for that lot. First of all, I went to specific trees on the farm with a Brix meter to check the sweetness of the cherry. Then, we selected the cherry and processed it normally. When it came to picking, I only worked with the two best pickers we have at the farm: Wilmar and Euder. We paid them more for this specific collection. After collection, we floated the cherry and pulped the coffee. After that, we fermented the coffee in black polyethylene bags. 
Marcos:
Instead of fermenting it in your washing tanks?
Maria Bercelia:
Exactly. So, we fermented in those bags affixed with small hoses to let the gas out during fermentation. When I personally selected the coffee for this lot, the sweetness was between 22 to 26 degrees in each cherry. After they were pulped, the sweetness went down to 18 degrees. Once the lot was at 13 degrees of sweetness, I washed the coffee. And then, we went back to our standard process: aerating, selecting, drying–a slow drying process just like every other lot of coffee we produce. That process produced the winning lot. I hadn't used this specific fermentation process before. For the remainder of the process, I didn't want to do anything too different because they say that my coffee is good. I've worked to perfect my coffee processing technique, and the process that we've regularly used has given us consistent, good results. So I knew that this coffee would come out great as well. However, for this lot, I was determined to make certain that the sweetness of the coffee was excellent.
Marcos:
And it worked! Your coffee won the competition!
Maria Bercelia:
I know! I am very excited. I wanted to win for two reasons. First of all, I wanted to establish a great reputation for my farm, but also, I wanted to give Parlor an outstanding opportunity to sell my coffee. I wanted Parlor to do well, too.
Marcos:
We are very excited to share that coffee with the world. Did you think you were going to win with that coffee?
Maria Bercelia:
No! I was worried. Good farmers had entered multiple lots. During the awards ceremony for the competition, I started sweating when I saw all of them being called up to the stage while I was passed over. I thought that I would at least make it to the top five or top ten. I was nervous, thinking to myself, "this cannot be happening!" And then they called my name, first place! I was so happy and grateful for the chance to be a part of the competition. I really wanted to win. It was all very exciting.
Our commitment is a dedication to improve every day. The fact that we won this year does not mean that we are going to lower our guard. We are going to try to improve and try to be better.
Marcos:
In thinking about the future, what role do you think your children will have in ten or fifteen years?
Maria Bercelia:
I have always hoped for a future in which my children remain in the coffee business. I hope they continue producing coffee, even if they don't do it like us. Nevertheless, I hope they will one day take our place on the farm, producing quality coffee, and building strong friendships. It's a beautiful job. I fell in love with it, and I want my children to continue working in it.
Marcos:
We hope that, by reading this interview and drinking your coffee, people will be able to understand what life on a coffee farm in Colombia is like. As the head of the family, you are in charge of the farm. Is there significance behind your position as head of the farm?
Maria Bercelia:
Not really, because here we are a family of equals. There is no boss in our family. I will always be the mother to my children. But, when it comes to work, there is no boss. We are equals. We all work equally. What has to be done is done, and it is done without saying "you have to do it." Everyone knows what they have to do. And yet, as I tell my children, "even if I am a hundred years old, I am still going to be your mother." That is very clear. I will always love them and hug them. I will still keep them in line even if I am a hundred years old.
Marcos:
In these years of growing coffee and competing, against the backdrop of your whole life experience, you've obviously learned a lot. If you have to talk about the biggest lesson that you have learned, what would that be?
Maria Bercelia:
What I have learned the most is to take stock in value: to value things, to value people's efforts and their work, and to value time. I have learned to value my family, to value my colleagues, to value the people that motivate me, because I have learned a lot from them. I have grown so much from the people around me, not merely through working together, but through shared experience.
Marcos:
Maria, thank you from the bottom of our hearts for everything that you are doing, from your dedication to Finca Los Angeles to your generosity in sharing this story. We are grateful that we can share this with our friends and the people who love to drink your coffee. Your words shed light on all the love, work, and dedication needed to create a coffee of such consistently high quality. We will never be able to sufficiently express our gratitude for our partnership and for this relationship we have. It is an honor to work with you and to present your coffee to the world.
Maria Bercelia:
I am very proud of working with you guys, and as I have to your many times, I feel very fortunate. Thank you!