Back in Print: Parchment Vol. 001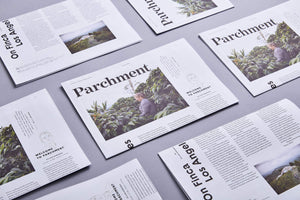 In early 2019 we released our first volume of Parchment, dedicated to telling the story of Colombian coffee producer Maria Bercelia. Our relationship with Maria, her family, and her farm, Finca Los Angeles, represents the ideal which we strive for in building every new partership at origin.
We're re-releasing print copies of Volume 001 today in celebration of a fresh crop of Colombia Los Angeles landing at our roastery.
Parchment is a publication produced by Parlor Coffee highlighting the world behind your cup of coffee. It's formatted like a newspaper, complete with articles, interviews, and photographs that shed light on the human stories behind the coffees we source and roast. Vol. 001 tells the story of Maria Bercelia Martinez, a Colombian coffee farmer whom we've worked with since 2016. It features an interview with Maria, essays by Parlor Coffee founder Dillon Edwards and Fairfield Trading founder Alejandro Renjifo, and photography by Rich Gilligan.
We hope these stories will help the casual coffee drinker and the established professional alike better appreciate the complexity of the supply chain and the work we're proud to do on the ground.