Origin Spotlight: Nyeri, Kenya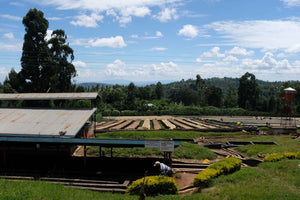 To the south of Mt. Kenya, along the foothills that roll well below its majestic peak, lie the regions where some of our favorite coffees in all of Kenya are grown and processed. These lands are fertile with vibrant volcanic red clay soils, enriched by a network of freshwater streams. Nyeri is especially well known for producing coffees of outstanding quality.
Kenya's coffee washing stations (or "factories," as they're called in the local trade) are particularly thorough: a multi-phase fermentation process, lasting seventy-two hours on average, culminates in an extra-meticulous final freshwater wash to clean off any remaining coffee fruit from the polished seeds. While the growing conditions are ideal in Mt. Kenya's foothills, propagating coffee varieties of a very high cup quality, we believe the processing is the secret to the legendary excellence of Kenyan coffee.